2100-A16-NET - Ethernet TCP/IP Adaptor option for 2100-A16:
Product Specifications: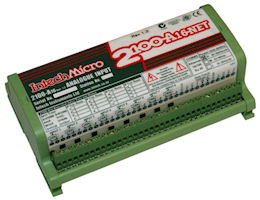 Description:
The 2100-A16-NET offers the convenience of using Ethernet for communication instead of the typical RS485/422 network system used with the 2100-A16.
The connection is via TCP/IP . The installer assigns a static TCP/IP number and port number (default 10001) using the XPort® setup program. If Applicable the appropriate port number has to be opened for use in the networks firewall, and can be used in 100Mbs or 10Mbs networks. Physical connection is via a RJ45 socket.
Electrical isolation is provided by the 2100-A16-NET, isolating the stations connected to the
2100-A16-NET from the Ethernet network.
Qualified IT support personal will need to carry out the Ethernet installation and 2100-A16-NET Ethernet configuration. Please note that Intech will not be able to help with the setup and operation of a TCP/IP network and assigning of IP addresses.
As part of commissioning IT support staff should assign a static address to each 2100-A16-NET. The 2100-A16-NET should be listed as part of the Ethernet system for support by the IT support staff.
Factory Set IP Address for the 2100-A16-NET is: 192.168.1.100
Note: The Ethernet converter (XPort®) on the 2100-A16-NET only allows one computer communications connection at one time. It is not possible to have multiple computers permanently communicating to the 2100-A16-NET. The computers must share the 2100-A16-NET by connecting and disconnecting as required.
Ordering Information:
| | |
| --- | --- |
| 2100-A16-NET-X | Standard Unit: Analogue Inputs Pt100, 0~100C; Analogue Outputs, 4~20mA; Ethernet Comms; 85~264Vac/dc Power Supply. |


Note: Power supply 'H' is field selectable for 'M'; and 'M' for 'H'. Power supply 'L' must be ordered separately.
Protocol Support:
Supported:
Not Supported:
EtherNet/IP - (use EtherNet/IP to Modbus TCP converter – make sure that this converter can convert all Holding/input registers as needed. Setup of the device will be needed to map the Modbus TCP addresses to EtherNet/IP addresses).
Note: If using the 2100-A16-NET with software other than MicroScan , please contact us to determine that your method of communication is supported (i.e. if it is not MicroScan or Modbus TCP).
Connection Example: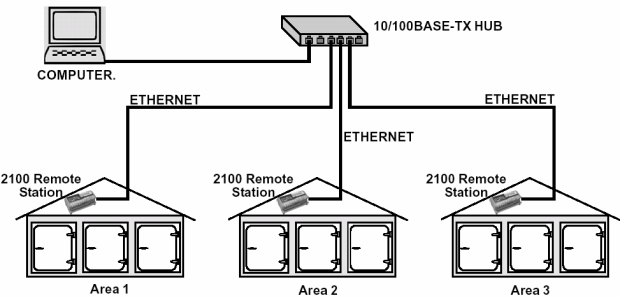 Cautions on Ethernet Port:
Make sure that the Ethernet cable/plug is not physically damaged before insertion into the Ethernet port. E.g. Burred on plastic edges.
Damage to the Ethernet Port pins is NOT covered under warranty.